Redcon1-total-war-preworkout
---
Are you ready to take your workout to the next level? Kickstart your workouts with Redcon1 Total War
SECURE A 10% DISCOUNT ON TOTAL WAR NOW!
Enter code at checkout:  REDCON10 
10% discount offer ends in:
---
WHAT IS REDCON1 TOTAL WAR?
EARN REWARDS
WITH EACH PURCHASE
1. How is TOTAL WAR® different from other pre-workouts on the market?
Milligram for milligram you won't find a stronger product. All ingredients are at clinical dosages for efficacy as well as full label transparency. Additionally, we do not use artificial colours in the products. Lastly, it is a complete pre-workout, combining endurance, pump, energy and focus elements, it is not just a concentrated stimulant based pre-workout.
2. What is the clinical dosage of Citrulline Malate for pumps? 
The clinical dosage of citrulline for pumps is 4 grams but the study was conducted with 6 grams of l-citrulline malate 2:1, which yields 4 grams of elemental citrulline; same as what is in TOTAL WAR®.
3. How can I take TOTAL WAR®?
For optimal results, take 1 scoop of TOTAL WAR® 30 minutes prior to training.
4. Can I still drink coffee or energy drinks throughout the day if I use TOTAL WAR® pre-workout?
We wouldn't recommend drinking Total War in conjuction with other caffeinated products
5. Am I able to use TOTAL WAR® prior to cardio, is there any benefit?
Due to the stimulant portion of TOTAL WAR® you will definitely get a benefit precardio for energy and focus.  
6. How does TOTAL WAR® vary from most stim-based pre-workouts on the market? Can I use TOTAL WAR® on days I'm feeling tired or do I need to take it every day for results?
Yes, however, it's most beneficial used on training days.
7. Do I need to cycle off of TOTAL WAR®?
We recommend 12 weeks on 4 weeks off to avoid becoming tolerant to the effects of the stimulants contained within TOTAL WAR®.
---
A very good pre-workout.
"Tried the Rainbow Candy flavour, great flavour and great results. Gets me through hard workouts with no lack of energy"
Blaine A
21/5/2020
Energy, Focus & No Jitters.
"Energy, focus, no jitters... Amazing product, highly recommended"
Jason B
15/5/2020
Good Stuff!
"Good pumps, mixes easily, good flavours, Redcon1 always has great deals."
BB
29/4/2020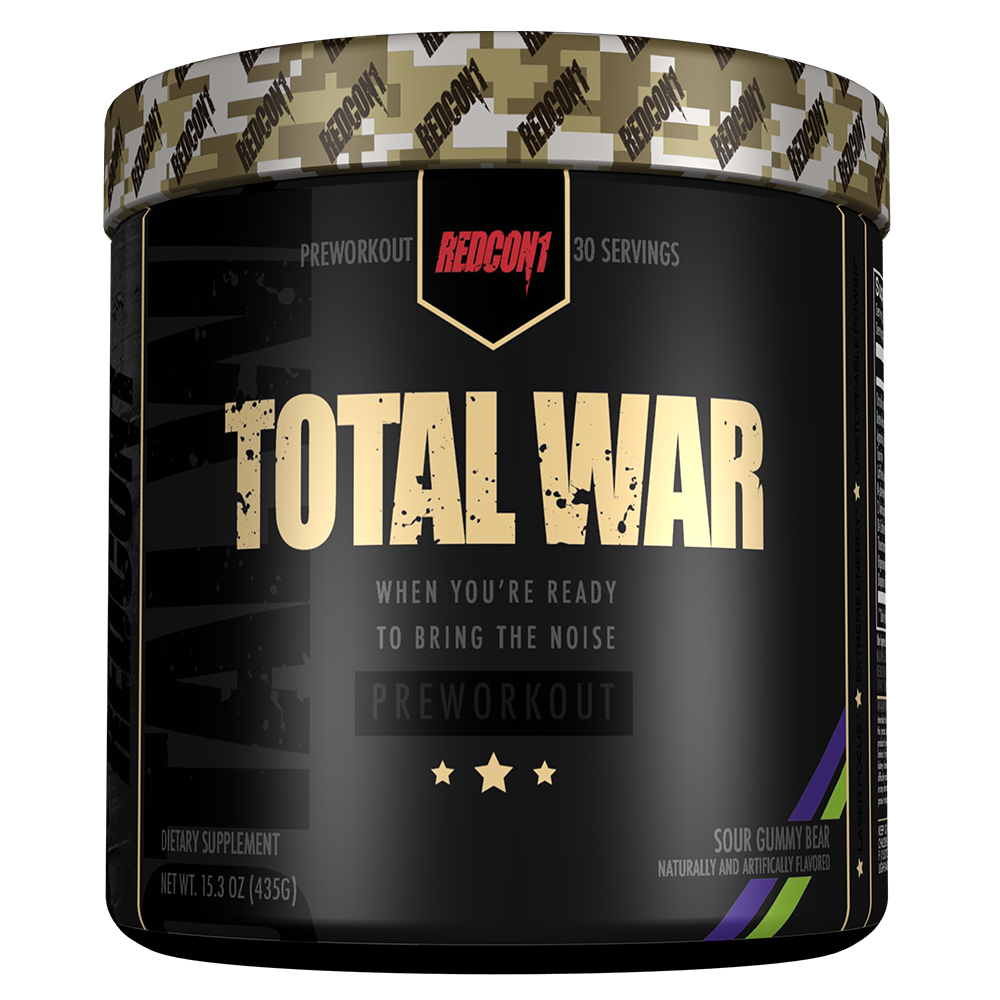 DON'T MISS OUT! GET TOTAL WAR NOW!
Enter code at checkout:  REDCON10 
10% discount offer ends in:
---